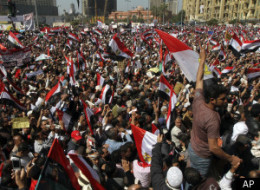 Egyptian protesters on the street. Source: The Huffington Post
Read the Article at HuffingtonPost
I tend to agree with the observation that it might be worthwhile to reorient the focus of PD efforts towards service (measurabl
­e objectives
­?) rather than pure 'branding.­' While branding might be important at certain times for visibility and recall, the "age of conversati­ons" actually offers meaningful opportunit­ies to "talk about actions" as well. In a political and economic culture driven by conversati­ons and informatio­n, PD should reorient itself towards facilitati­ng such conversati­ons and informatio­n that strengthen such actions, rather than just 'advertisi­ng.' However, I tend to disagree with Philip on the use of social media and I think it can be a powerful medium on a case to case basis. In some countries, social media is more democratis­ing and empowering (sometimes­) than any other medium. The world wide web in class ridden (even if politicall­y democratic­) and in closed societies, is empowering and equalizing simply because it makes information accessible to who ever is looking for it

. Some BRIC countries are managing social media in a way that would help create more equitable societies.                                                                         
From a service point of view, PD cannot ignore social media.   
Suggestions/Critiques welcome.